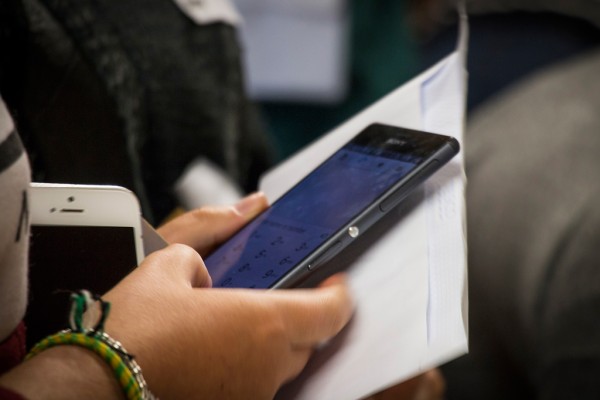 'I'm in control… I can stop whenever I like…'
Helen Taylor shares how a Shine Offline day made her question her use of technology.
I have to admit I turned up to the Shine Offline workshop feeling more than a little defensive and sceptical. I didn't feel in need of a "digital detox", an expression I could barely bring myself to utter due to a cringing suspicion it made me sound like a faddish wannabe-hipster. Then there was the suggestion of addiction: was going to the workshop an admission that I was in need of some kind of intervention?
I mean: Addicted? Really? Come on… surely that's just a bit melodramatic?
I love my online life, it's rich, engaging and fulsome. My iPhone is a box of delights: full of little versions of my funny, inspiring friends ready to spring into action and entertain. My phone is always there, and always ready: all manner of entertainments, ideas and enticing opportunities fizz away inside it, permanently at arm's reach, just waiting for me to activate them into dazzling life.
Sure, I can be as guilty as the next person of occasionally frittering away hours, falling down a Tumblr wormhole, or getting sucked into an unfolding social media drama. And sure, it's also true that I'm no stranger to the clenched jaw, jittery heart and rolodex-ing of thoughts that comes when stress and anxiety threaten to overwhelm.
But, but, but… there's no connection between the two… it's not my smartphone that makes me stressy, for heaven's sake. No, my busy over-committed life and the daily juggle of roles and responsibilities are to blame for that. The internet is my happy place; the provider of light relief, a way to wind down, a place to connect with like minds, seek consolation and forget the slings and arrows of the daily grind.
I don't have a problem… I'm in control… I can stop whenever I like…
Denial is the surest sign you've got a problem, right?
During my day with the Shine Offline team – which was fun, refreshing and energising in all sorts of surprising ways – I had a moment of epiphany: How can my online world be simultaneously stimulating and relaxing? How does that work? And why does this conundrum feel familiar? It was in the days after the workshop, as I started to experiment with new habits that I recalled where I had come across the stimulation-relaxation paradox before. Nicotine: a previous addictive adversary.
Back when I was trying to kick the smoking habit, I'd used Alan Carr's Easy Way to Give Up Smoking. Through the book, Carr invites you to critically examine the faulty thinking that underpins nicotine addiction and debunks the different mental excuses smokers use to continue their habit. Among these was that smokers often claim to need cigarettes both for relaxation/stress relief and for energising stimulation. Carr points out that these are physiologically opposite. The idea that they provide both is an illusion.
Cigarettes feel relaxing because they provide temporary respite from nicotine craving. Just as checking my email, the news or social media online feels relaxing because it temporarily satisfies my need for distraction from the mundane or the difficult. While there's nothing wrong in seeking escapism, I am wrong to kid myself into believing that this is a beneficial kind of relaxation.
The truth is that life online is stimulating. Very stimulating. Highly, effectively and addictively stimulating. It's a fantastic way to forget about my ever-pressing to-do list, or to postpone the necessity of getting stuck into that tricky piece of work exactly because it's so entertaining, fun and thought-provoking. It's demanding in a low key way: "just give a little attention here", "have you seen this?", "have you thought about that?" "what's your opinion on x/y/z?" it screams at me. Each tiny scream is easy and often enjoyable to answer. But cumulatively they are as demanding and draining as a roomful of hungry toddlers.
This creates a pressure. Any time spent keeping up with and fulfilling its demands is time when I'm adding to the stress-load on my body and mind without making the slightest dent on my to-do list. I may escape the world, but I don't nourish my mind and body in a way that effectively counters the pressures of everyday life.
With this in mind, here are my post-Shine Offline resolutions:
– Keep phone out of sight when at home and with friends & family so that it doesn't trigger the impulse to check it
– Turn off the demanding red notification from as many apps as possible
– Stop using the internet to provide rewards and breaks in work and study.
Helen Taylor is a Freelance Market Research Consultant. She took part in a Shine Offline Day in December 2015.