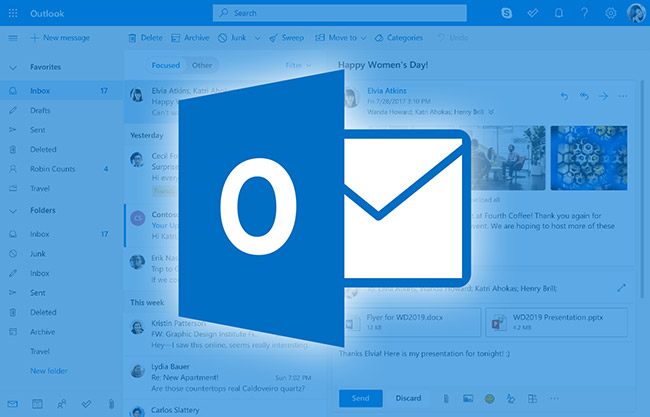 Big or small, global or local, the same themes play themselves out when it comes to desk-based workers and the issues they have around their digital wellbeing and management. One recurring theme that is causing problems for most people is the role their email plays, the impact it has on their ability to concentrate, and the overwhelm it can cause inside work and out.
An amazing tool that has transformed the way people communicate email has brought a host of benefits to the working world. But with these come a host of downsides. An invention that was supposed to replace the fax machine and make communication much quicker and simpler is causing stress for millions of people every day. Theorists, experts and researchers are claiming that the reactionary mode many people are in, spending their day responding to emails and not being in control of their own schedules, is untenable and that something has to change.
While we wait for the shake-up and the "email revolution" there is a lot you can do to take back control of your day and improve your relationship with your inbox. Below we have outlined our favourite hacks for Outlook. Click here to read an excellent article on Computer World on better management of Gmail.
Turn off email notifications to avoid your attention getting pulled away every time you get a new message
You are chatting on a conference call or finalising the report it's taken you a week to get around to and a little envelope appears on your screen. You Got Mail!! Don't get me wrong, I love a bit of Tom Hanks and Meg Ryan, but when you're trying to focus the temptation to "just have a little check" to see what has come in is sometimes overwhelming. We get a little dopamine hit every time we engage in online activity and email is no different. The slot machine effect is in full flow here. That envelope appears, you don't know what the message is going to be – good news, bad news, a round robin about cups piling up in the office kitchen sink – and that uncertainty keeps us checking. So take back some control, turn off the notifications, and when you want to retrieve your mail hit send/receive all folders.
Outlook – File > Options > Mail > Message arrival – decide if you want any form of notification or none at all. We would advise turning them off completely.


Work offline when you need to concentrate to stop the flow of new emails
This simple technique transformed the way that I work and is so straightforward to do – and yet when you ask a room of workshop participants who use Outlook as their email service if they know how to do this 9 times out of 10 they don't.
I spend most of my day with my email in offline mode which means I can view the email window, all the folders, even compose an email, but no new messages will come in because I'm "offline". This allows me to focus my mind and stay in control of my own attention.
Outlook – go to 'send/receive' and then click 'work offline'. A little red X will appear over your outlook icon on the bottom of your screen. When you're ready to go back online and allow the emails to come in simply click the 'work offline' icon in Outlook.


Schedule email delivery so that you are sending messages at an appropriate time
We live in an agile, flexible working world which has resulted in many people being more in control of their working schedules and deciding when they want to work. For many this can be evenings and weekends as the mobility of their digital technology has resulted in a loss of 'hard edges' marking the end of work and the start of personal time. A great perk for people who want a blended life but the downsides are huge. You've had a day of meetings and have just finished dinner and are taking a couple of hours to catch up with emails. You're firing responses out and composing some new ones. You don't intend anyone to reply – you're just doing what suits you. But that is unclear to the colleagues you are messaging. And if in a position of seniority this out of hours email behaviour can creation uncertainty amongst the team about what is expected from them in regards to out of hours communication – the very act of opening an email in an evening or on a weekend puts the recipient in work mode. Using the "Delay Delivery" function in Outlook allows you to embargo your email. This means you can click "Send" and have that task checked off your to-do list, but the message will not be delivered until the scheduled time you have chosen e.g. the start of business hours the next business day. One thing to remember is that you need to be online for any scheduled emails to be delivered – don't get caught out expecting something to go at 8.30 if you haven't turned your laptop on. Another option is to save the email as a draft and send later.
Outlook – click New Email > Options > Delay Delivery > Select date and time you'd like to send the message in the Do not deliver before section > Click Close > press Send.


Re-think the cc to help reduce your own and your colleagues' overwhelm
Ccing colleagues in is standard email practice these days. People want to include relevant team members in a message to ensure everyone is abreast of what's happening. An excellent tool if used appropriately, overuse of the cc has resulted in over-crowded inboxes and an uncertainty around what is important mail and what is just for reference. Next time to are about to cc a host of people in a message stop and really consider if they all need to be included. We know from many people we've worked with that changing your view on cc use can have an unbelievably positive impact on the amount of emails you will receive – and also help to prevent email overload for the people you are communicating with. One senior manager we worked with was feeling overwhelmed by her inbox and so told her people "I trust you. Please don't cc me in as standard". The result? A 60% decrease in the amount of internal email traffic she received, less email overload on her part, and a sense of empowerment for her team.


Manage post-holiday overload by using the Clean-Up function
Back to work after a well-needed rest and check me out – I didn't go into my inbox the whole time. A proper break! Amazing. Flipside? 300 emails waiting for you in your inbox. Before you press "delete all" consider using Outlook's clever Clean-up function which removes all email replies that are duplicated in a later thread, allowing you to read a single thread instead of dozens of individual emails. What this means is that you won't waste time re-reading information and can cut to the chase in one email thread. Super. Rest assured: the tool is sophisticated and will not delete any emails with attachments or text that aren't exactly duplicated in later threads, and you can always review deleted items in the trash folder if needed.
Outlook: Home > clean up > clean up folder
Hopefully you can see how at least one of these tips will help you start to adjust your email behaviour and begin a new, healthier relationship with your inbox. Good luck!