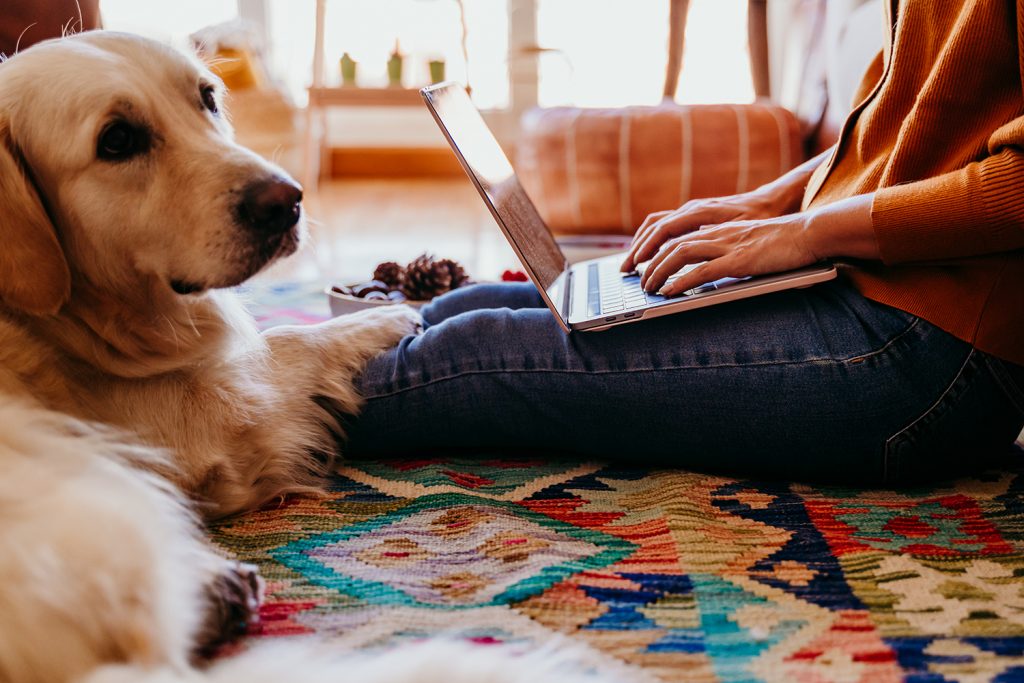 Technology's ability to help and harm in all aspects of our lives depends entirely how we choose to use it – and to sometimes step away from it altogether.
The move to hybrid working as a default for most businesses has increased our reliance on digital technology to meet, collaborate and work. Hybrid and flexible working is here to stay. And no wonder when it saves commuting time, creates opportunities for focused work without distractions of the office and allows us to fit our working time around our personal lives. In theory we should all be feeling improvement in our work life balance. Unfortunately however this is not the reality for most.
86% of people tell us they have been working longer hours since working remotely
62% tell us that their work life balance has been negatively impacted by flexible working
In a constantly connected world we need to carefully manage our use of technology and make conscious choices to switch off, otherwise the ability to work anytime, anywhere can start to feel like we are working always, everywhere.
"Working from home people don't feel the separation between their professional and personal environments and as a result mental health and wellbeing are becoming eroded. Its hugely important that we actively encourage our teams to separate work from their home and personal life and this can only be achieved by being in control of your digital communications." Michael Hopkins, Partner in law firm Pinsent Masons commented.
Why is it so hard to switch off?
Flexible and hybrid working – With no hard and fast rules anymore regarding working hours cultures can develop where it is perfectly normal to email at weekends and evenings. According to the Harvard Business Review, in a study of 2000 workers, senders of out of hours emails underestimated how compelled recipients feel to respond straight away
Expectations of availability – When not physically present many people feel the pressure to be contactable and responsive at all times. Whether these expectations are real or perceived it is driving cultures of digital presenteeism in the workplace where people feel unable to switch off
Ambition – In workplaces where responsiveness is equated with loyalty and dedication evening and weekend work becomes normalised and creates pressure for people to be available around the clock as a sign of their commitment
Compulsive behaviour – Checking in on our work communications has become habitual for many rather than being a conscious choice. This is exacerbated if we have our inboxes on our smartphones, allowing work to follow us to the sofa in the evening, to the pub with friends and even on holiday. Are you one of the 58% of people checking your work email in bed?
Time zones – Employees working across global time zones face extra challenges to their work life balance in our 24/7 connected world.
Protecting your work life balance and respecting that of others
Businesses need to try and move away from an always on culture and move towards a culture of working smarter, not longer hours. For businesses and their people to thrive they need to encourage conscious, balanced use of technology.
9 digital behaviours for improved work life balance
Take personal responsibility – Put some hard edges in your day and decide when your work stops and personal life starts
Keep your bedroom a tech free zone to remove the temptation of looking at your phone before you go to sleep, in the middle of the night and first thing in the morning
Take work email off your phone and if possible have two phones to separate your professional from personal
Shut down work tech at the end of the working day and try and resist logging back on. If you are working in an office why not leave work tech there?
Manage expectations of others around out of hours
Draft and schedule non-urgent communications if working out of hours – it shows respect to the recipient's off time and creates a healthier culture
Be sympathetic to the time zones of others when sending communications or arranging meetings.
Everyone needs a holiday no one should be indispensable. A proper handover means that people can have a true rest and only expect to be contacted in real emergencies. This is extra important if you are the boss!
Managers need to lead my example by modelling good behaviours themselves and questioning the out of hours behaviours of their team.
Business Leaders share their thoughts
On holidays…
"I used to pride myself being online 24/7 when I was on holidays. All that does is reinforce in the team an expectation that when they are off they should do the same."
Michael Hopkins, Partner, Pinsent Masons
On switching off at the end of the day…
"There are a number of people in my team now who shut down at the end of the day – even put on an out of office on a daily basis so that they are communicating it to others."
Bola Gibson, Head of Inclusion and Corporate Responsibility at Osborne Clarke
On the role of leader…
"If a leader or manager is routinely sending emails in the evening or on weekends this signals to everyone else that this is the norm and the way they should be behaving – I expect you to be "always working". If leaders log in when on annual leave not only does this give the message that this is the expected behaviour but speaks to a lack of trust in colleagues to 'hold the fort'."
Richard Martin, Executive Officer, Mindful Business Charter
We don't live in digital bubbles
Your digital behaviour not only impacts your own wellbeing and work life balance but also that of other people. Talk to your colleagues about why this topic is so important and what you are doing to improve your digital habits and try to make collective changes so that everyone feels able to step away and enjoy proper rest and downtime.
Good luck!
Any question or comments? Drop us a line at hello@shineoffline.com
Shine Offline and the Mindful Business Charter
Shine Offline are proud to be the digital wellbeing partners of the Mindful Business Charter (MBC). Initially launched in 2018 by Barclays, and law firms Addleshaw Goddard and Pinsent Masons and now with over 120 signatory businesses, the MBC is a set of best practice, behavioural principles to tackle unnecessary workplace stress that impact employee mental health and wellbeing. For more information and if you are interested in joining the MBC community visit www.mindfulbusinesscharter.com